Hello, gorgeous! I am very happy to receive gifts and one of my favorite ones are jewelries. I have an entire collection at home, I love both gold, but also silver jewelries.
Nowadays, we are all looking for unique presents, and a personalized piece of jewelry is a good way to show your affection. You can check here a Necklace Preview
Personalized name necklaces are very fashionable and can be worn with different outfits, no matter the season.


A solid gold monogram necklace will be a remarkable piece of jewelry for every fashionista.  Unlike other Initial Monogram Necklaces Solid Gold which are enclosed by a circular border, this style has the letters curved out without any frame enclosure. It can be personalized with 3 initials of your name and differ chain of choice. A monogram necklace is indeed a very stylish way to show your feelings.

A personalized necklace with a mother and daughter heart will be a perfect gift for Mother's Day. Check here a link with gorgeous mother and daughter necklaces for all those special women in your life.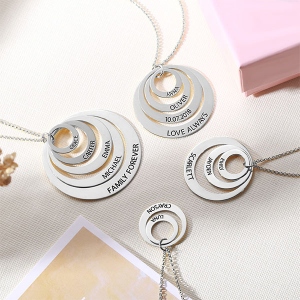 Golden or silver, jewelries represent memories that last forever. With a custom necklace, the gift will be a real lasting memory. Choose today a custom necklace for those beloved ones.
I have seen some very beautiful necklaces on
https://www.getnamenecklace.com and they are indeed special items for those special persons in your life.
Have a great shopping day! Thanks for stopping by!
Comentarii
comentarii